With all of the chairs out there, you may be wondering what the different styles are that define them. I'm going to review all of the different designs that are out there in order to assist you in selecting the perfect chair for your unique space! Whether your space is modern, traditional, retro or eclectic, there is a chair that will be perfect for your home!
Lounge 
Also known as an easy chair, Lounge chairs the most popular and commonly used armchair and comes in a wide variety of styles. Lounge chairs have been around for many centuries and are commonly used in designs where the goal is comfort, relaxation and informality. The Anthony Chair by Vanguard Furniture (Below) is a great example of a Lounge chair. 
Club
The Club style chair is a large and imposing, is commonly upholstered in leather and originated in English club rooms. Traditional style Club chairs will typically have exposed wooden legs. The Club chair is a comfortable and deep-seated chair and is commonly associated with luxury and tradition. The Greenwich Chair by Weiman Preview (Below) is a gorgeous Club style chair. 
French
French style chairs are characterized by exposed wood on the rails and legs. Most French style chairs have elegantly curved legs and detailed carvings on the top rail and arms. They will make an elegant traditional accent or occasional chair for your home. The Chateau Bergere by Schumacher & Co. (Below) is a beautiful French style chair. 
Tub
The Tub chair's most distinguishable feature is its graceful sloping design of its arms and back. Tub chairs are typically contemporary in style and will give your space a casual yet stylish appeal. The Calvin Chair by Dwell Studio (Below) is a great example of a contemporary Tub chair. 
Barrel
The Barrel chair is characterized by its arms and back being the same height all the way around which gives it a half-barrel like appearance. The Barrel chair is best suited for contemporary style spaces and is available in a variety of designs and materials. The Bernadette Swivel Chair by Vanguard Furniture (Below) is a gorgeous Barrel chair. 
Corner
Corner chairs are appropriately named for their ability to utilize a corner. Today, Corner chairs are used as versatile chairs that can be used in a corner, as part of a sectional, or as an accent chair. These versatile chairs can also be placed together to form a small bench or settee. They come in a wide range of styles and designs making them a great choice for traditional or contemporary settings. The Salon Corner Chair by Bernhardt Furniture (Below) is a gorgeous example of a Corner chair. 
Egg Chair
The Egg chair is a modern classic and is named for its resemblance to a broken eggshell. Egg Chairs are gaining popularity for their use in retro settings and provides a space a comfortable and stylish place to sit. They come in a wide variety of designs and styles and some feature built in speakers and swivel mechanisms. The Egg Chair by Phillips Collection (Below) is a stunning tufted version of an egg chair.
Tete-a-tete
The Tete-a-tete chair is also known as the gossip chair and was originally a formal chair designed to permit two people to sit together and talk. Modern versions of the Tete-a-tete chair are more casual but still allow two people to sit and converse comfortably. Tete-a-tete chairs are designed for comfort and informality. The Tete-a-tete featured below is an elegant style by Christopher Guy. 
Arts and Crafts 
The Arts and Crafts chair style gained its popularity in the late 19th and early 20th centuries when people became very interested in hand-made furniture. Arts and Crafts chairs come in a variety of designs and styles and provide a rustic elegance to any space. These simple, pleasant chairs are very versatile and can fit in traditional or contemporary designs. The Bicycle Wheel Chair by Phillips Collection (Below) is a great example of the hand-made look that Arts and Crafts chairs are known for. 
Cane 
The Cane chair is commonly made of wicker or rattan and features a can or wood frame. They are often used as outdoor chairs but are beginning to show up in indoor designs as well. The woven construction of the Cane chair allows for ventilation in hot or humid spaces, making it very comfortable when you are trying to stay cool. The Cane Back Chair by Hickory Chair (Below) is a great example of a cane chair.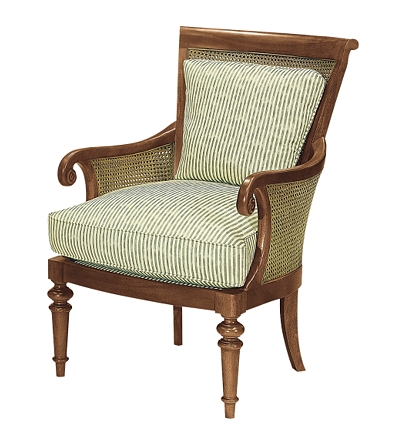 Wing Back
The Wing Back chair style is an upholstered chair that features two upholstered panels, or wings, on either side. Wing Back chairs are very graceful and elegant and will bring a stylish sophistication to your home's decor. They are plush and comfortable chairs that are often found near bookcases or fireplaces. The original purples of these chairs was to help retain the heat from the fire for cozy relaxation. The Kingston Chair by Bernhardt Furniture (Below) is a stunning Wing Back chair. 
Armless
Also known as Slipper chairs, Armless chairs are commonly used as free-standing chairs and are a crucial component in modular configurations.  Often used as accent chairs, Armless chairs come in a wide variety of designs and styles. The Farris Chair by Vanguard Furniture (Below) is a stunning Armless chair.